Rugs are a timeless piece of interior design. It is difficult to imagine a room without at least one rug. They provide a stylish addition to your interior decorating, as well as comfort. Rugs not only provide a stunning visual in a room, they can also help you define different spaces – especially in an open-plan environment.
Further, rugs can also reduce noise by absorbing sound on hard surface, while also protecting the floor from scuffs and scratches. But there are many factors to consider when selecting a rug. Today the team at Woods Rug Laundry are going to discuss our top x tips for choosing the perfect area rug!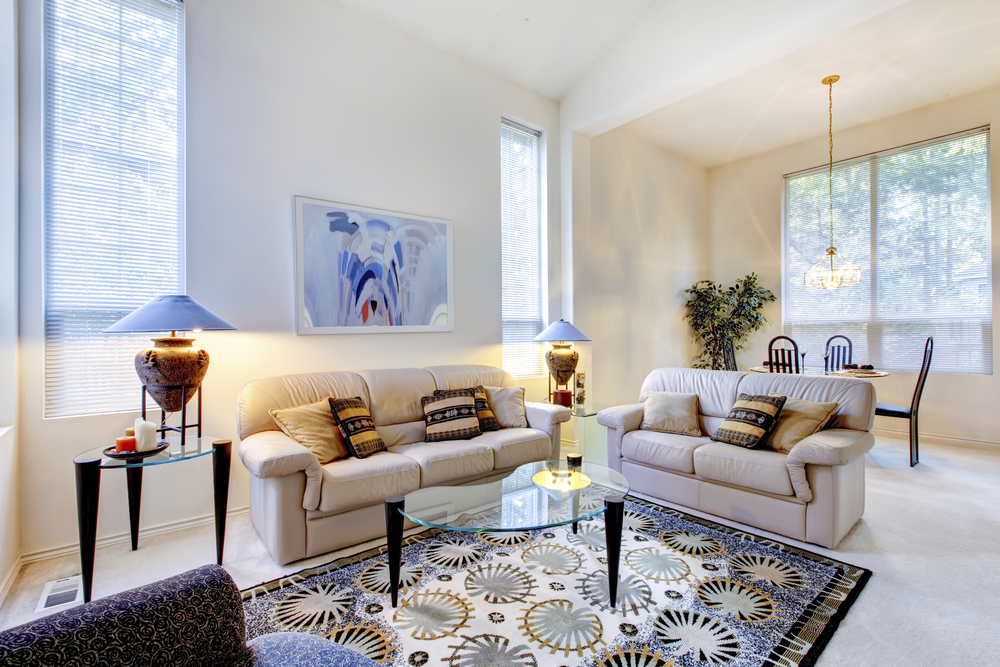 1: What is the Purpose of the Rug?
When choosing the perfect area rug, your first consideration needs to be the rug's use. Rugs can either your room look larger and cosier or overwhelm the space, depending on your choice. Consider this checklist:
Where are you placing the rug – living, dining, hall, bedroom, children's room?
How much traffic will the rug see? (this may affect the fibres you can choose from)
How often will the rug be used? (again, this may affect your fibre choice)
Is it easy to clean? (a children's rug needs to be easier to clean than a living room rug)
Will the rug be a statement piece or should it blend into the rest of the décor?
2: Choosing the Perfect Area Rug: What Look do You Want to Create?
Choosing the perfect area rug can create a stunning interior space. As a result, it is important to understand the effect a rug can make.
1: Brightening your room
Bright colours and bold patterns can help add a vibrant feel to your room. Choose colours that stand out in your space. Geometric patterns are popular in modern design for this reason.
2: Create Warmth and Intimacy
If you are looking to warm up a space, try deep colours and rich, complex textures. This creates a cosy, intimate feeling, ideal for lounges or bedrooms.
3: Calm and Serenity
If you are looking to create a serene, refreshing space, try cool tones and muted shades. These tones help soften your décor, making them perfect for seaside homes, lounges and even studies.
4: Creating a Formal Space
Looking to create a formal space, perhaps for a study or a den? Look for deep jewel tones or warm, earth tones. We also recommend sticking to traditional patterns and smooth finishes.
5: Create a Sense of Luxury
People often want a luxurious feel when it comes to meeting rooms, studies, offices and formal living areas. We recommend looking for rugs that feature leather or hide to create this feeling.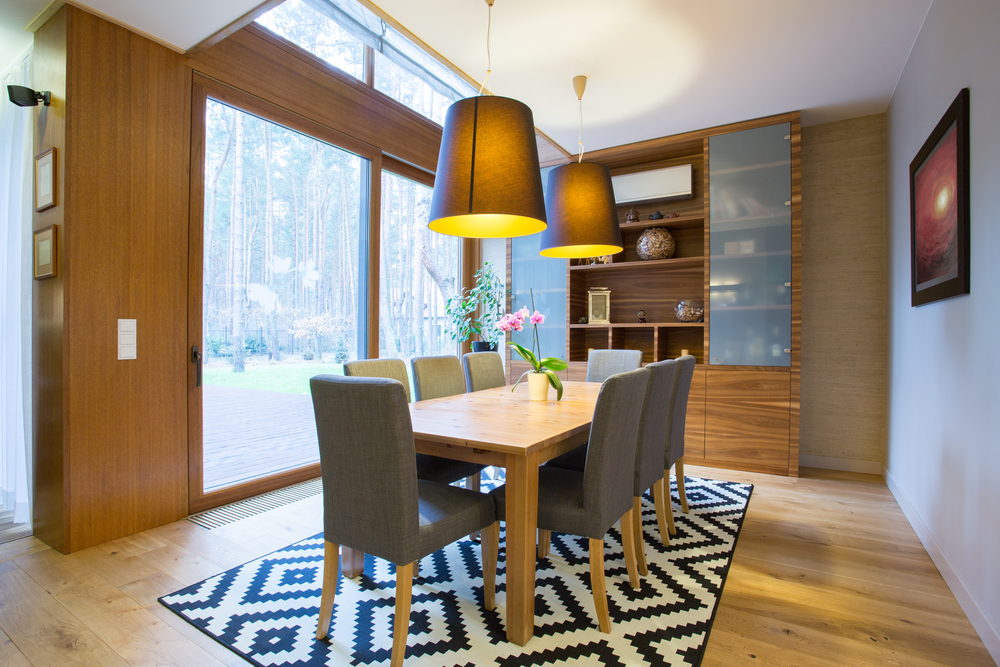 3: Choosing the Perfect Area Rug: Placement
As we mentioned before, the location of the rug is important, especially when choosing fibres and sizes. High traffic areas, like halls and children's rooms, may benefit from nylon rugs that are cheap to replace, rather than clean. Lounges, bedrooms and dining rooms, however, are best dressed with a wool rug for comfort. Finally, outdoor area are best dressed with hard, natural-material rugs like seagrass.
4: Choosing the Perfect Area Rug: Sizes
Different rooms have different needs when it comes to rug sizes. Here is what we suggest per room.
Dining Rooms
For most dining rooms, we suggest that the rug extend beyond the table. This means you can pull chairs back without them going off the edge of the rug. Not only does it look nice, it also prevents chairs wobbling disconcertingly.
Bedrooms
For bedroom rugs, we suggest two options. If you have a bed that sits flush with the floor, you should consider two runner style rugs to lay at each side of the bed – or a single runner at the foot of the bed.
For beds on posts or legs, we recommend a large rug that will fit under the bed and extend at least 2 feet on either side. This not only makes the room more comfortable, it also keeps your feet warm in winter.
Living Rooms
Like bedrooms, we have a couple recommendations when it comes to lounge room rugs. You can choose a rug that is large enough to fit all your lounge furniture on it, comfortably. This includes couches and coffee tables.
Alternatively, you can choose a rug to arrange your furniture around. Space between lounge furniture can make a room look bigger. However, you don't want a rug that is too small. It should easily fit a coffee table on top of the rug, with a few centimetres gap between the rug edge and your seating.
However, if you prefer smaller rugs, try layering smaller, brighter ones on top of a neutral coloured rug to create a modern, boho look.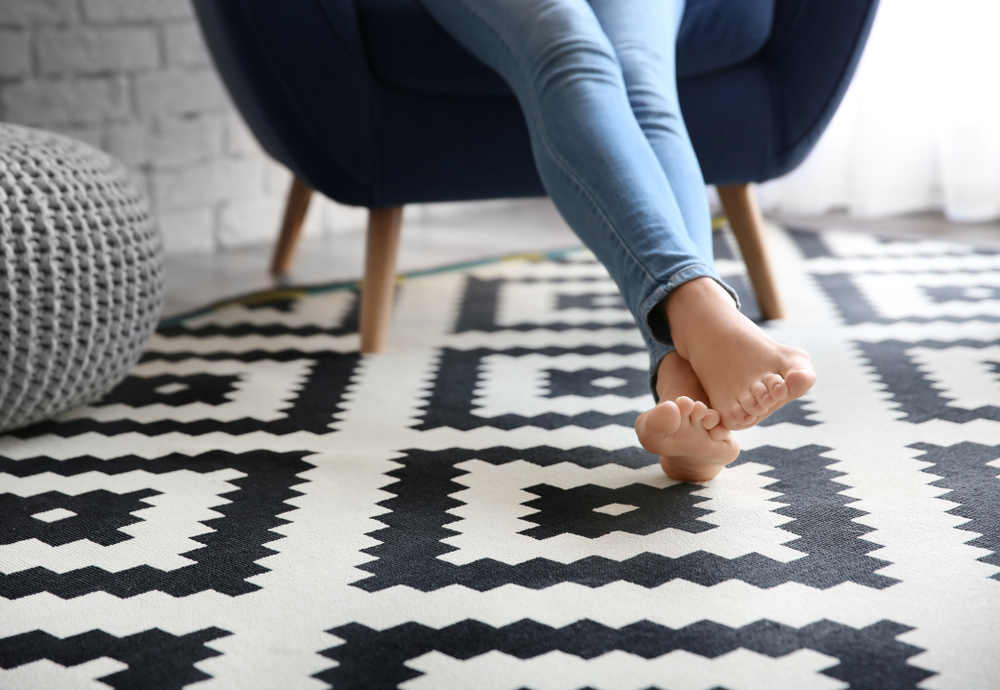 5: Choosing the Perfect Area Rug: Styles
While it is tempting to just choose a stunning rug that has caught your eye, you need to consider the practicality of the style. Nylon or natural fibre rugs are best for rooms with high traffic, pets or children. These rugs are generally sturdy, easy to clean or replace, and tend to be non-slippery.
Cowhide rugs are great for studies or home offices, where you might not be vacuuming as much as other areas of the home. They are also good for dining rooms, as most spills can be wiped up or dusted off.
Wool rugs are fantastic for lounge rooms and bedrooms, where spills are less likely. However, remember that wool rugs can hold an incredible amount of dirt and dust before they even begin to look dirty. These rugs should be cleaned at least once a year to keep them in great condition and prevent the build up of allergens.
6: Quality Over Cost When Choosing the Perfect Area Rug
While the cheapest option is always tempting, cheap rugs often have a very short life span. They do have their place, though. Cheap, nylon rugs are great for those starting out with their first home or apartment as they can be replaced when you can afford a nicer rug.
But, in general, you want a rug that is going to last for years. Wool rugs are woven to last and, unlike nylon, silk, seagrass or felt rugs, they are easy to care for and clean. Further, wool rugs are woven to last against years of foot traffic and use by your family. While silk or felt rugs look beautiful, they are very easy to stain and very difficult to clean. Nylon rugs are often not worth cleaning and can even melt during the cleaning process! Where possible, we recommend a quality, wool rug over anything else on the market.
Do you have a rug that needs some tender love and care? Want to bring back its vibrancy and colour? Contact the team at Woods Rug Laundry, today. We offer a professional cleaning service, online bookings, and convenient pick up and delivery options.