When updating your home décor, choosing a rug is only one part of the adventure. The next, is finding a suitable spot for your rug. Working out the perfect place for your rug can be a daunting task, even more than finding the perfect rug in the first place!
Nothing brings a room together better than a rug. And nothing misaligns a room more, either. Which is why placement is so important. Today we are going to talk about how to best place your rug in your home, as well as discussing the right size and shape.
Things to Consider When Buying and Placing a Rug
When deciding where and how to place your rug, there are a number of factors to take into account. These include:
Size of the Rug
The larger the space, the larger the rug you need. If you want the rug to fill the room, then you should leave about 18 inches between the rug and the wall, to create a pathway. It also stops your rug looking too big for the room. You always need to measure the size of your room before buying a rug, to ensure it both fits the room, and the interior design look you want.
The Shape of the Rug
There are a wide variety of rug shapes, especially in the realm of modern, nylon rugs. This allows you to choose the perfect accent piece for your space. While rectangular shapes are unmatched when it comes to design, especially for large or medium-sized rooms. But circular rugs and irregularly shaped rugs bring a charm and quirkiness to a space.
Circular rugs are also ideal for smaller rooms and small, dining areas. They also work perfectly with round dining tables and in office spaces.
Rug Style
The style of your new rug is dependant on the rest of your décor. An oriental style rug is not ideal in a highly modern space. And a bright, modern rug is out of place in a traditional look interior design. You need to decide on your interior design theme and style, before choosing a rug. This way you can choose the perfect rug that will suit your space.
Foot Traffic and Your Rug
While we often forget about this when choosing a rug, is how much foot traffic the rug will need to endure. If you are choosing a rug for an entry way or hallway, you need a rug that will hold up to a great deal of foot traffic. This means you might be best choosing a nylon rug, as they are cheaper and easier to replace than antique or wool rugs when they wear out.
A rug for a children's room also needs to be more robust than a rug for an adult's room. Wool rugs are soft and comfortable underfoot, which makes them perfect for living spaces where people are less likely walk around often and are unlikely to be wearing shoes.
Consider how the space is going to be used before choosing a rug and rug fibre type.
Rug Placement Suggestions
Choosing the right position for you rug isn't as difficult as it might seem. There are some simple tricks and tips to make the most of your space, furniture and rug.
Rug Placement for Living Rooms
The living room is the most integral part of the home and the most often used. As a result, it is loaded with furniture and other home décor items, and is the space where the family congregates most. So you need a rug that is comfortable as well as cohesive for the room. You can use a rug to create different zones, as well, in an open plan living room.
Circular rugs are gaining popularity, especially in smaller rooms and cosy or hygge themed rooms. However, small rugs can lead to a room feeling odd and furniture seeming too large for the space. This "floating island "effect leads to a space that feels cold and less inviting.
Rug placement should anchor your seating arrangement in a room. It doesn't necessarily have to fill the whole room but it should at least reach the front two legs of your couch and f0r the main chairs on the rug. You should also leave at least a 30cm border between the rug and the walls.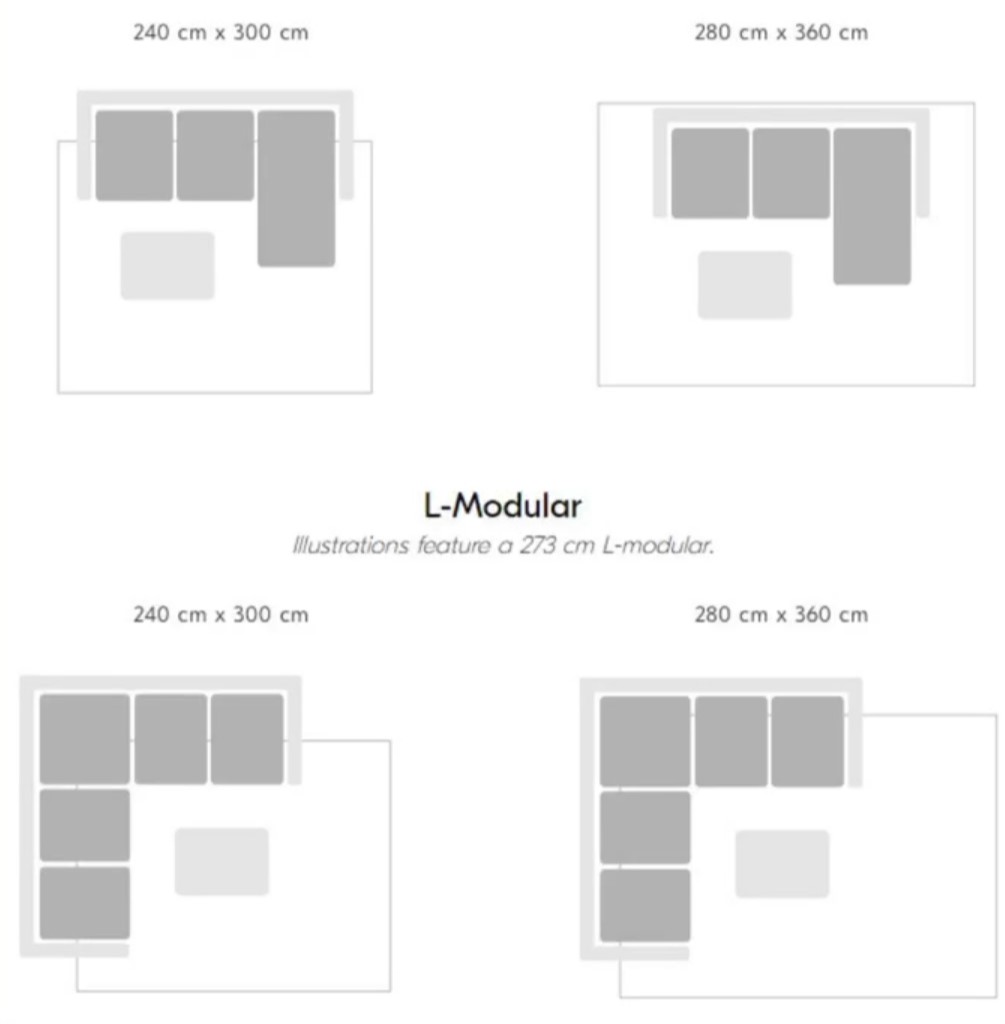 Modular Chaise
For a modular chaise, depending on the size of the room, we recommend 240cm x 300cm to 280cm x 360cm. the rug should either reach just shy of the back two legs or fit the entire chaise and coffee table on it.
L-Modular Couch or Chaise
For an L-modular couch or chaise set up, we also recommend 240cm x 300cm, or 280cm x 360cm, depending on room size. One corner of the rug should be under the couch, reaching either just after the front two legs or just before the back two legs. Don't seat the couch fully on the rug.
Loveseat and Chair
For a loveseat and chair configuration, we recommend either a 150cm x 240cm or a 240cm x 300cm rug. You can either arrange the furniture with the front two legs of the loveseat and chair on the rug, only, or seat both pieces of furniture fully on the rug.
Standard Couch
For a standard couch with a chair, we recommend a rug from 150cm x 240cm to 240cm x 300cm. the furniture should be arranged with either the front two legs of the couch or chair on the rug, or all furniture fully seated on the rug.
Finally, for a standard couch with two chairs, we recommend a rug that is at least 280cm x 360cm, and all furniture be fully seated on the rug.
Rug Placement in A Bedroom
There's nothing better than stepping out of bed and onto a soft, comfortable rug in the mornings. But with the bed taking up most of the space – as well as any other bedroom furniture such as chest of drawers, and wardrobes – you have to think carefully how you place a rug.
Depending on the size of the room, and the rug and bed, aim to place the rug under at least two-thirds of the bed. you can also consider seating the entirety of the bed and bedside tables on the rug.
you should allow at least 60-90cm on each side of the bed to ensure you have soft, cosy rug to stand on when you get out of bed.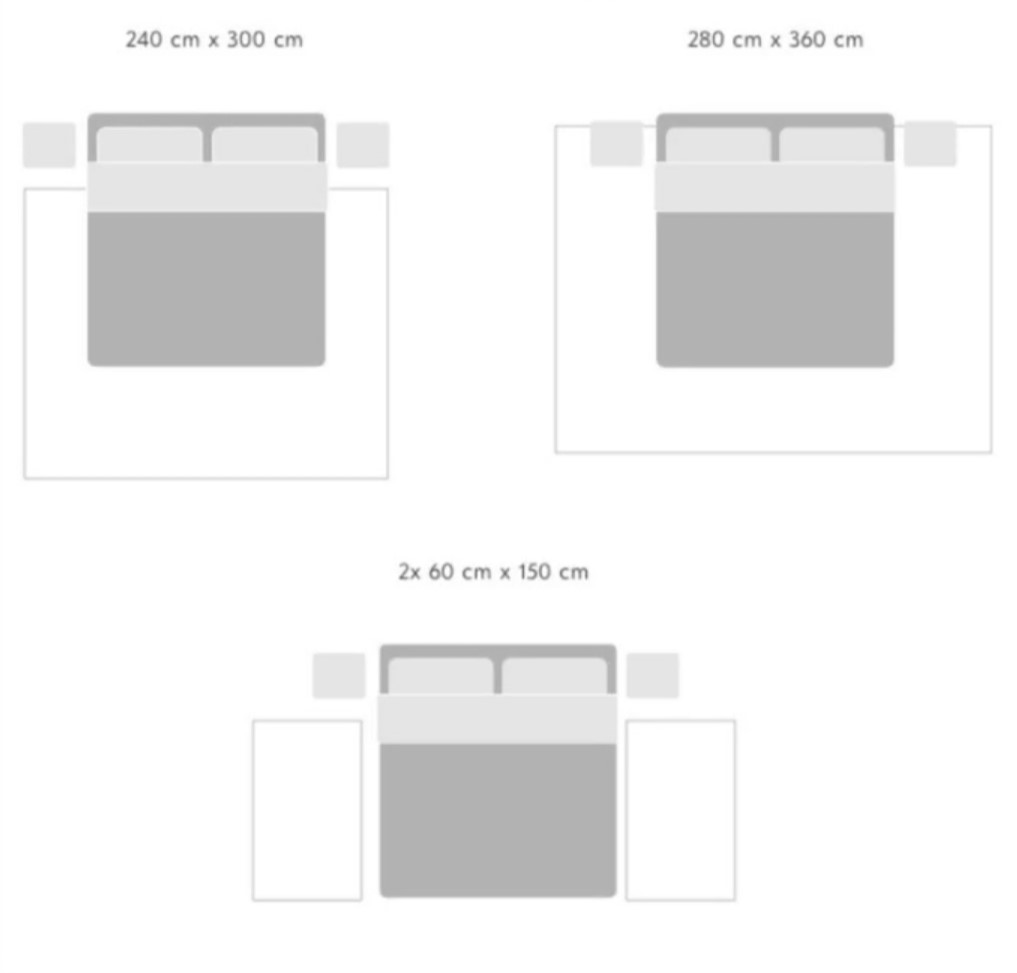 Placement Options
There are, however, a couple options for rug placement. Assuming the head of the bed is against a wall:
1: A rug of about 240cm x 300cm placed under the bed, so the edges come out from both sides of the bed, as wide as your bed side tables. The top of the rug, however, should not reach the bedside tables, or the wall.
2: A rug around 280cm x 360cm that reaches past the bedside tables, and touches the wall.
3: Two small rugs, around 60cm x 150cm, that are placed on either side of the bed. They should be long enough to stretch from the bottom of the bed to just before the bedside tables.
4: A small rug, around 150cmx 240cm that reaches from just before the base of the bed, to halfway under the bed, providing a little rug on each side.
5: A rug about 240cm x 300cm that covers under the bed and the bedside tables, up to the back legs.
6: A very large rug, around 280cm x 360cm that gives a large amount of rug space at the bottom and sides of the bed, and ends just before the back legs of the bed and bedside tables.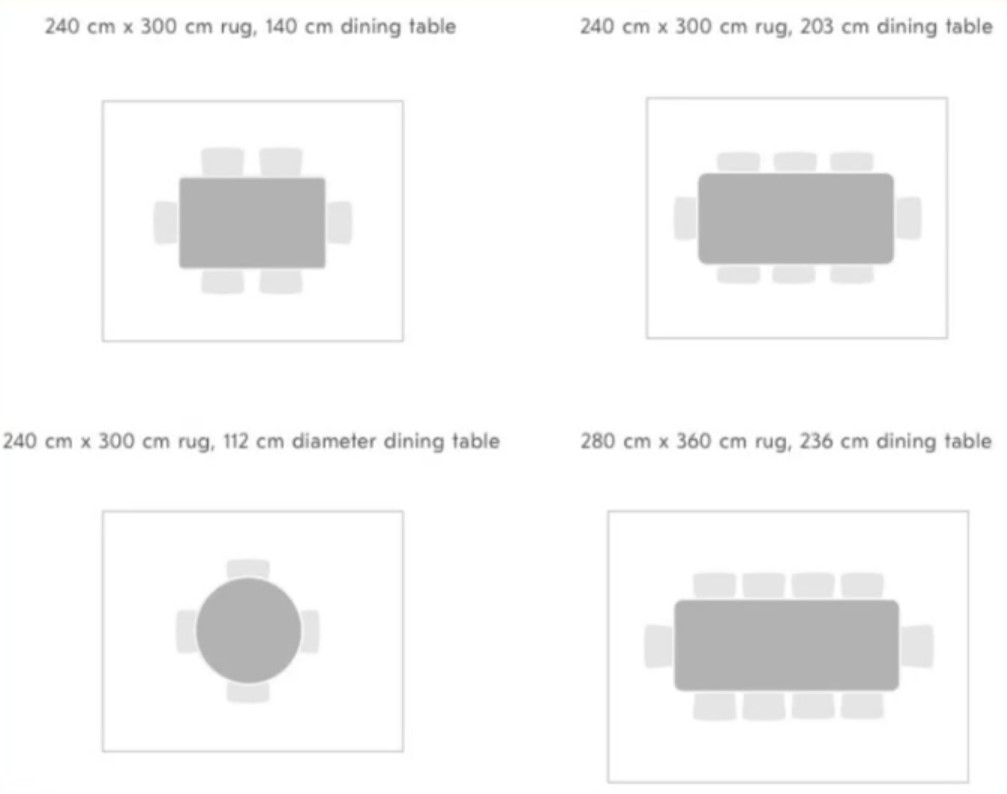 Dining Room Rug Placement
Dinging room rugs can add a touch of class to any room. They should be large enough to cover the dining table and seats, as there's nothing worse than feeling like you're sitting on an unstable chair. Circular rugs are also a great option for smaller dining spaces.
You should choose a rug that extends out at least 60cm on each side of the able so there's room for you to pull out chairs. As a result, most tables need a rug that is at least 250cm wide. If you have an extendable table, you need to ensure your rug still works if you open the table out fully. For small or round tables, a square rug can look fantastic!
A good rule of thumb to remember is:
1: A 140cm to 203cm dining table needs a 240cm x 300cm rug.
2: A round table around 112cm in diameter needs a 240cm x 300cm rug or a 240cm x 240cm rug.
3: A long dining room needs a rug around 280cm x 60cm.
Already have the perfect rug? Does it need some tender love and care? Contact the team at Woods Rug Laundry today for expert rug cleaning.