Rug fringe is something people either love or hate it. On some rugs the fringe is short and on others it is longer. Shorter fringes are rarely a bother. In fact, older rugs often have a shorter fringe as it has worn away over the years. However, a lot of customers find long fringe annoying. Far too many people take scissors to rugs – and we're going to explain why that's a terrible idea! Let's discuss what a rug fringe is and how to properly clean it.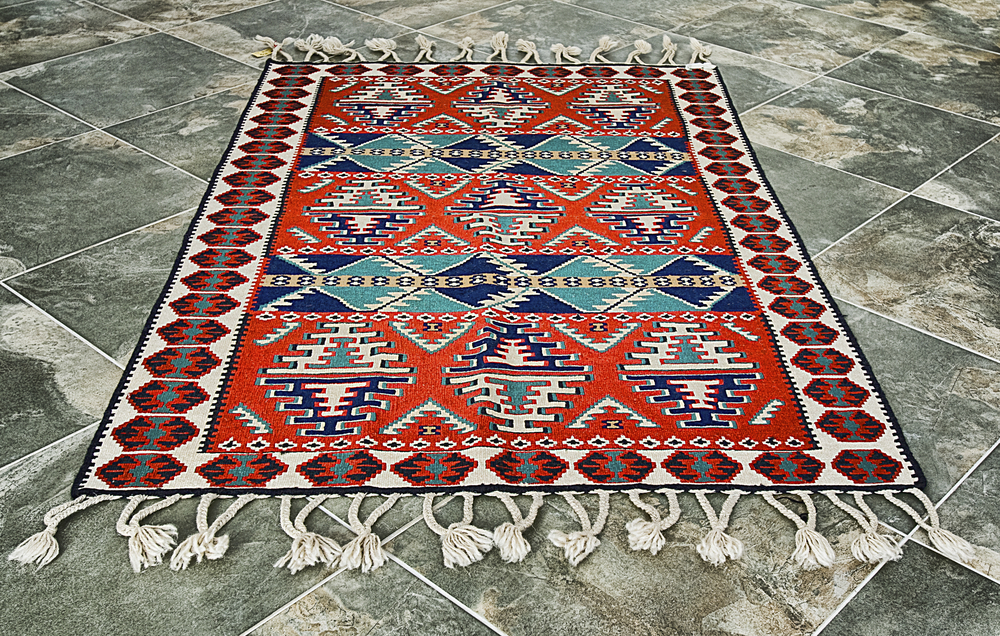 What is Rug Fringe?
On a handwoven rug, the fringe is actually the warps of the rug. Warps are the strands of wool, cotton or silk that the rug maker twists and ties the pile onto. This is what forms your rug. This means that a single strand or tassel runs from one end of the rug all the way to the other. Essentially, your fringe is the skeleton of your rug.
On machine woven rugs, the fringe is added on after the fact, purely for decoration. So, unlike handwoven rugs, if the fringe on a machine woven rug has damage, rug repairers can easily remove and replace it.
Why is Rug Fringe Damage Bad?
Fringe, in most cases, has little or no impact on the value of a rug, as it is a by-product of the weaving process. However, if fringe tassels untie, are torn, wear off, or cut off, the knots that make up our rug can begin to pull away and unravel. This causes damage to your rug and impacts the value of it, as well as requiring costly repairs. In the worst cases, the rug itself begins to unravel and destroying the design.
While we have discussed how damage to machine woven rug fringe is easy to fix, handwoven rugs are a different story. The fringe is the foundation of your rug, meaning repair is not easy. If your fringe is damaged in anyway, it needs to be repaired properly before the rest of the rug is ruined.
So, what do you do if your rug fringe is damaged or filthy?
What Causes Damage to a Rug's Fringe?
Be wary if your rug has super bright fringes when you buy it. This can mean that the cotton or wool was bleached before sale. Unfortunately this whitening process, while making the fringe look nicer, can also cause a lot of damage. Chemicals, like hydrogen peroxide, damage the fibres and weakens them. Like water, chemicals can also cause rotting in rugs.
The amount of damage the fringe can suffer is highly variable. It all depends on the strength of the solution used, and whether there was past damage that the bleaching worsened. If you find that cotton fringes or tassels break off easily, then this is a bad sign. It means the chemicals have likely affected the fibres, making them brittle. You cannot reverse this damage. If the fringe tears, it has either badly deteriorated due to age, or due to chemical damage.
How Do You Clean Dirty Fringe?
Wool rugs are generally the best rugs to own because the fibres can hide dirt amazingly well. This is because the fibres have layers of "cuticles" to hide and store dust and grit. This means, when a wool rug is dirty, it only looks duller.
Cotton, however, has no place to hide soil, so it gets ground into the strands. Cleaning cotton fringe is similar to trying to clean dirty shoelaces. Unfortunately, you can't simply spray a formula on them and have them appear sparkling clean. Cotton fringe needs careful treatment and scrubbing to properly clean it.
However, even the gentlest cleaning methods can be too much for fringe with damage. You will not get a dirty fringe clean without careful scrubbing, and that alone can break off fibres.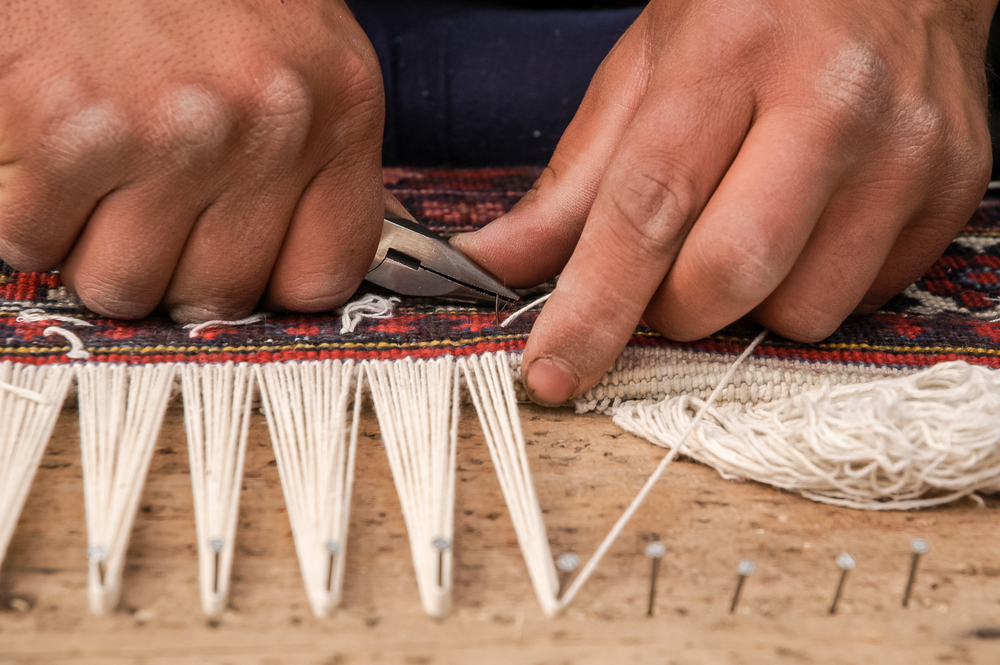 What Options Are There for Damaged Fringe?
Those with damaged fringe may need to consider other options when it comes to cleaning. It also ensures that base tassels don't tear away and unravel the rug.
You can trim extremely long tassels shorter, making them less likely caught by shoes, vacuum cleaners or a rogue Roomba.
However, just cutting a rug fringe as short as possible is that you can damage the foundation threads. If you cut your fringe too much, it can lead to your rug unravelling. If the fringe has knots, these knots help hold the rug together. If you cut the fringe shorter than these knots, or too close to the knots, the fringe can untie.
How Can You Lower the Risk of Damage?
If you want to help prevent damage to the fringe, you can "hide" it. A professional rug repairer can properly secure the rug ends so the rug stays intact, then hiding the fringe or tassels by over-wrapping them in wool like the other sides of the rug. By hiding fringe, you get the look of a clean edge, without the structural damage.
If the tassels or fringe are too long for a repairer to hide, you can simple fold it under the rug and cover with protective material – again, a professional repairer can help you.
Do you have a rug that needs cleaning? Need someone to check the fringe on your rug? Call us today for help, advice and to book your rug in for a professional cleaning service with Woods Rug Laundry.