As summer approaches, we're all looking to spend more time outside. And there's nothing wrong with bring a touch of indoor comfort to your balcony, deck, porch or veranda. As the weather heats up, we all want to take advantage of the longer days and warmer temperatures, with outdoor entertaining and dining alfresco. An outdoor rug is the perfect touch of indoor comfort to add to your outdoor space. This allows you to make your outdoor space feel more like an extra living room space.
But an outdoor rug needs to withstand different types of weather and the challenges of a natural environment. Today we are going to discuss the features to look for in the perfect outdoor rug!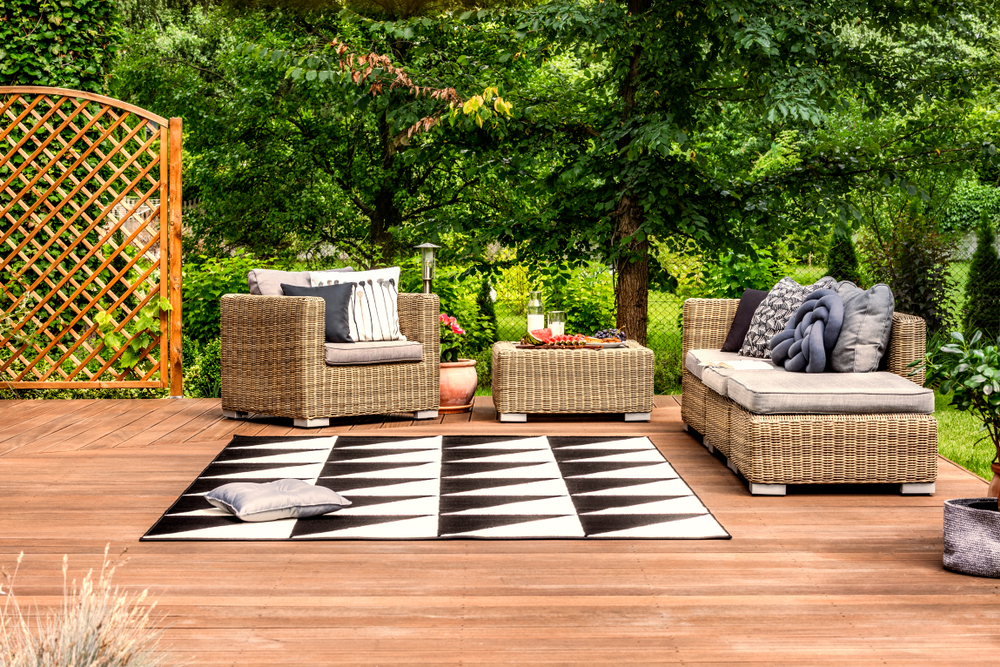 The Importance of Outdoor Rug Materials
When shopping for rugs, they generally fall into two categories – synthetic and natural fibres. Synthetic fibres are often favoured because they are vibrant, durable and somewhat resistant to fading, mildew and mould. Synthetic rugs are generally made from polypropylene, polyester or acrylic.
Natural fibres, like bamboo, jute, hemp, sisal and seagrass are inherently eco-friendly and sustainable materials. They feel soft and luxurious underfoot and dye well. These rugs can come in beautiful, natural colours, as well as bright hues to complement any outdoor space.
Construction Choices
Outdoor rugs come in a wide range of construction options. The three labels you'll see most often include:
Hand-Hooked Outdoor Rugs
These rugs feature a short, handmade pile and tend to be the more expensive options. This is due to the higher-quality materials and additional time that goes into manufacturing these rugs. They also come in a wide variety of colourful options.
Machine-Made Outdoor Rugs
These are manufactured more quickly and efficiently via power looms that simultaneously weave different colours. These rugs are more likely to be made of man-made materials over natural materials and are far cheaper options. However cleaning them tends to be more expensive than the rug itself, so it is often cheaper to replace a damaged rug than to wash or repair it.
Flatweave Outdoor Rugs
These rugs include flat-braided, corded and stitched, and kilim style rugs. They have no pile like other rugs. They are made by either knotting or weaving yarn together and have less cushion.
Colours and Colourfastness
Both natural fibre and synthetic fibre rugs come in a wide variety of colours and patterns. This includes geometrics, medallions, and stripes which are among the most popular styles. There are also bold florals, novelty designs, and tropical looks.
Woven patterns are the most popular due to the superior colourfastness and durability. The best outdoor rugs are labelled as "solution dyed" which means the colour was actually added to the chemicals used to create the fibre rather than having the yarns dyed after they are made.
This process helps the rug resist fading, which is a big concern for outdoor rugs as they are exposed to the elements. It also helps the rugs stand up to cleaning better than other rugs.
When choosing your outdoor rug remember that darker colours create a closer, more intimate environment. Lighter shades, however, can make a small area seem more spacious. But not matter the colours you choose, you can use the right rug to make your outdoor space seem more luxurious.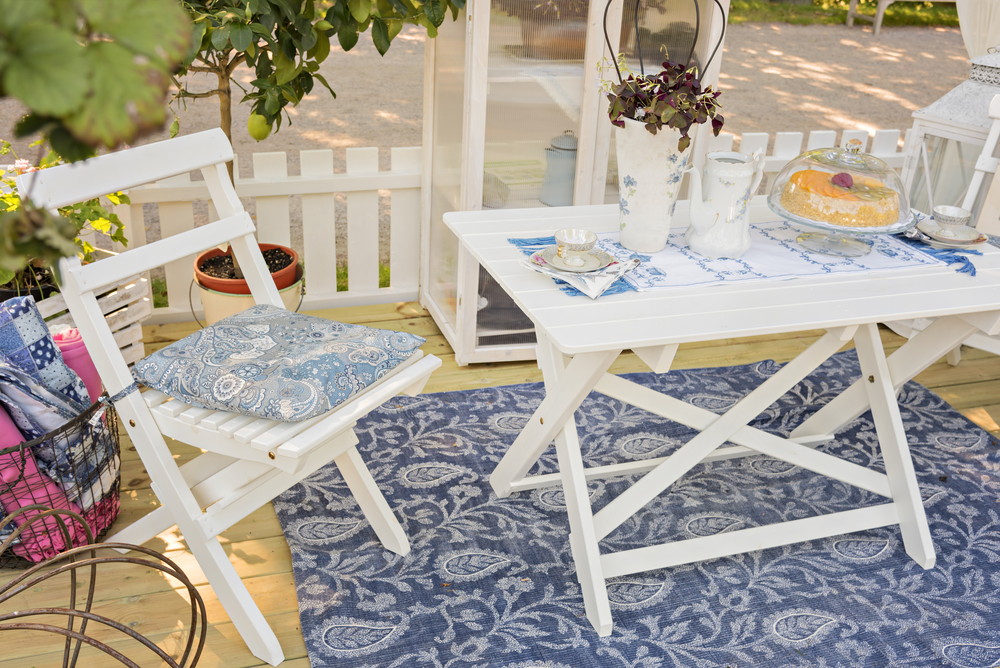 Caring for Outdoor Rugs
Most outdoor rugs are low maintenance as long as you keep them in a covered area, out of the weather. They do require some care, just like indoor rugs. A rug pad can prolong the life of your rug and act as a buffer between the rug and the surface it is one, protecting both. This is a great option if your rug is placed on a rougher surface. It also helps prevent the rug slipping when walked on, which keeps you safe as well.
Just like indoor rugs, outdoor rugs also need vacuuming to prevent dirt from building up. Outdoor rugs are more likely to have dirt build up than indoor rugs.
If a spill occurs, clean them up quickly by blotting the stain and gently lifting away any solids. You then need to get your rug to a professional cleaner, like Woods Rug Laundry, to hopefully prevent a permanent stain.
While outdoor rugs are better suited to withstanding the elements, it is best to roll them up and store them during winter and bad weather to ensure they last for years to come.
Are Outdoor Rugs Waterproof?
No outdoor rug is waterproof. Some are better at repelling water than others but even these will need cleaning by a professional when they get wet. Rugs are prone to mould and mildew, even in indoor environments, and this risk is higher with outdoor rugs. To keep you and your family healthy and safe, you should store your rug during bad storms  and bad weather, especially in winter, and have your rug taken to a professional as soon as possible if it becomes damp or water logged.
Can I Use an Indoor Rug Outside?
No! Indoor rugs are absolutely not made to withstand the elements. They can be damaged incredibly quickly by rain, sunfading, dirt and more.
Concerned about your outdoor rug? Worried it might be dirty or waterlogged? Contact the team at Woods Rug Laundry today for a professional clean!