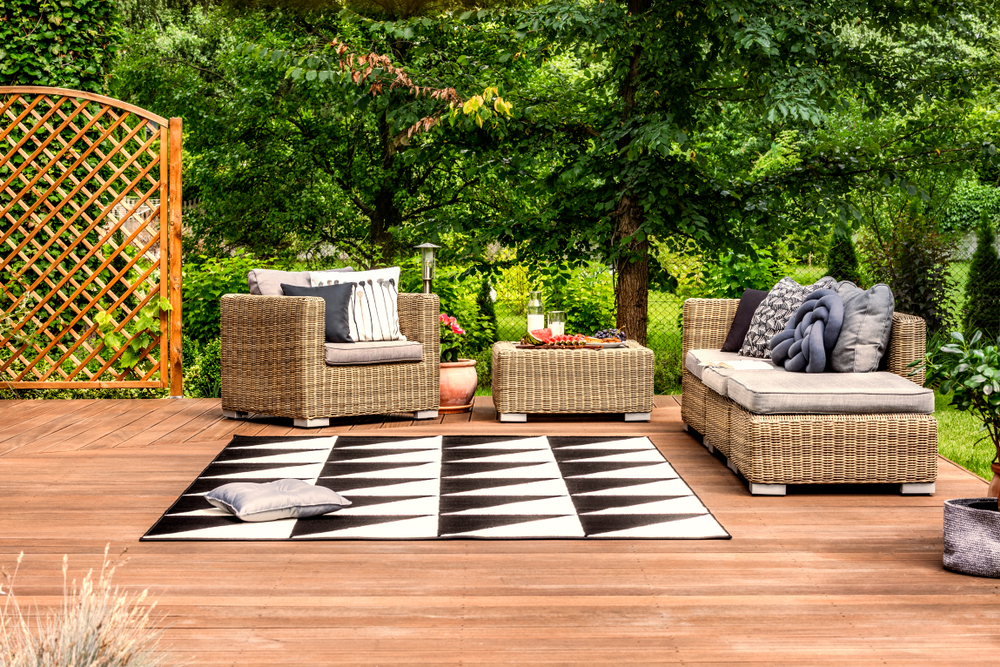 Outdoor rugs have become more and more popular in recent years. As outdoor entertaining styles have changed, so has the demand on the perfect décor. Rugs are popular on decks, patios, and even backyard grilling spaces. These rugs bring a sense of style to alfresco dining, a vibrant splash of colour, and added comfort.
But outdoor rugs are going to pick up far more dirt, dust and debris than a normal, indoor rug. They are also more likely to experience wear and tear due to weather exposure, food and drink spills, and foot traffic. Today, we are going to discuss how to clean an outdoor rug, to keep it perfect for years to come!
Sweeping to Clean an Outdoor Rug
Just like your indoor rug, your outdoor rug needs regular maintenance in order to stay looking their best. Many outdoor rugs use a weave of durable, natural materials like jute. This allows you to sweep them. We recommend you use a soft-bristle brush to do this. While you may use a vacuum on your indoor to remove the pounds of dirt, it is not the best solution when it comes to removing dirt, dust, and debris from outdoor rugs. Vacuuming can actually harm the fibres of outdoor rugs, which is why we recommend sweeping instead.
Shake it Out and Beat it Up!
To help remove further dirt, dust, and debris from your rug you can shake it out and then beat it. This is part of the traditional methods of rug cleaning. Lift your rug up, if you can on your own, or get the help of some family members or friends, and shake the rug out. The best way to shake your rug out is to hold it over the edge of your balcony or veranda. Shake hard until you are sure all the dirt and mess has fallen loose.
From here, you can hang the rug over the edge of the veranda, swapping the rug from side to side to ensure you beat out all the dirt. You can also use a clothesline. Repeat for both sides of the rug, until you are sure it is clean.
Before replacing your rug, sweep and vacuum the ground where you are going to place your rug. Dirt and small pebbles stuck under the rug grind away at the backing of the rug as you walk back and forth. Eventually this can tear holes in the backing of the rug, which can be irreparable. Once you are sure the flooring is clean – if you have mopped or hosed down the space, ensure it is completely dry – you can place your rug back in its space.
Removing Stains
Stains are inevitable in entertaining spaces. From wine and beer to dip and barbeque sauce, your rug can take a beating when you are entertaining. And it can be tempting to attack the stain immediately. There are plenty of DIY rug cleaning mixes online, as well as off-the-shelf mixes. But the team at Woods Rug Cleaning strongly suggests you don't use DIY methods or off-the-shelf solutions. You don't know how the chemicals and/or natural acids in these solutions will mix with the dyes in both the stain you are trying to remove, as well as the rug dye. You can actually make the stain worse, causing rug dye to bleed – which is irreparable – and end up scrubbing the stain deeper into the fibres, making it harder to clean and repair.
Instead, you should take a clean paper towel and remove any solids from the rug. Then gently blot any excess liquids from the rug with a clean cloth or paper towel. Afterwards, you need to get your rug to a professional rug cleaner, like Woods Rug Laundry, as soon as possible. They will be able to assess how likely it is that they can remove the stain, how much of the stain they can remove, and provide you with a quote. They can also do spot tests to ensure their methods won't cause dye bleed.
Never Use a Hose to Clean an Outdoor Rug!
It can be incredibly tempting, especially if your rug uses naturally fibres, to simply take your rug and hose it off. In fact, you can find many blogs online recommending that you simply use your hose to clean off the rug and then leave it in the sun to dry. The problem with this is that the rug cannot dry out properly, leaving water sitting deep in the fibres. This leaves that awful, wet dog smell and eventually leads to mildew growth. If left untreated, the rug can eventually dry rot, falling to pieces and quite probably affecting your health.
Professional rug cleaners, like Woods Rug Laundry, have special dry machines and rooms that ensure rugs are complete dry before technicians prepare them for home delivery. These facilities are specifically designed for what rugs need to fully dry out – something that is not possible in the average backyard. If your rug is in need of a clean, take it to a professional today!
Mould, Moths, Mildew, Rot, and Algae
Rugs can suffer from a number of maladies if you don't properly care for them. Mould and mildew can grow when a rug is left damp or wet. You may notice a wet dog smell, especially if you are using a wool outdoor rug. Mould and mildew is dangerous for the elderly, young children and those with chronic health issues. If you breathe in the spores from mould and mildew, they can affect the lungs and immune system.
If a rug is left wet, or if you have a pot plant sitting on your rug, you can risk dry rot. Dry rot occurs when a rug is left sitting in water for a long time. It eventually leads to the rug cracking up and breaking into chunks, making the rug irreparable. You should ensure your rug is kept well away from any water sources and that it is take to a professional cleaner if it has gotten wet at any point.
Wet and humid conditions can cause algae to spout. And if the conditions don't change it can quickly spread over your outdoor carpet. This disgusting, mossy, green slime can cause the rug to deteriorate if you don't get it removed properly by a professional. This is why it is important your rug does not get wet!
Your rug should be placed in a sunny position where possible. This will also help prevent pests, like moths. Carpet moths are persistent pests and thrive in dark, undisturbed areas. This is generally where rugs are under furniture and left to sit. It is important that you regularly turn your rug, especially if it sits under your outdoor furniture, to stop the moths settling and laying eggs. Dust is also likely to attract moths, so sweep and shake out your rug regularly to ensure moths an larvae don't settle in the fibres.
Looking for a professional rug laundry for your outdoor rug? Contact the team at Woods Rug Laundry today! We can clean your outdoor rug and bring it back to life!