With more people working from home, home offices are getting more common than ever. People are creating spaces in their homes to work comfortably, in peace. And part of keeping those rooms comfortable, cosy, and warm is the perfect rug. Just like any other room in your home, you need to choose the perfect rug for your home office space. This means ensuring the rug works with the aesthetic you want to achieve, as well as the shape and size of the room. Today we are going to discuss how to choose the best home office rugs.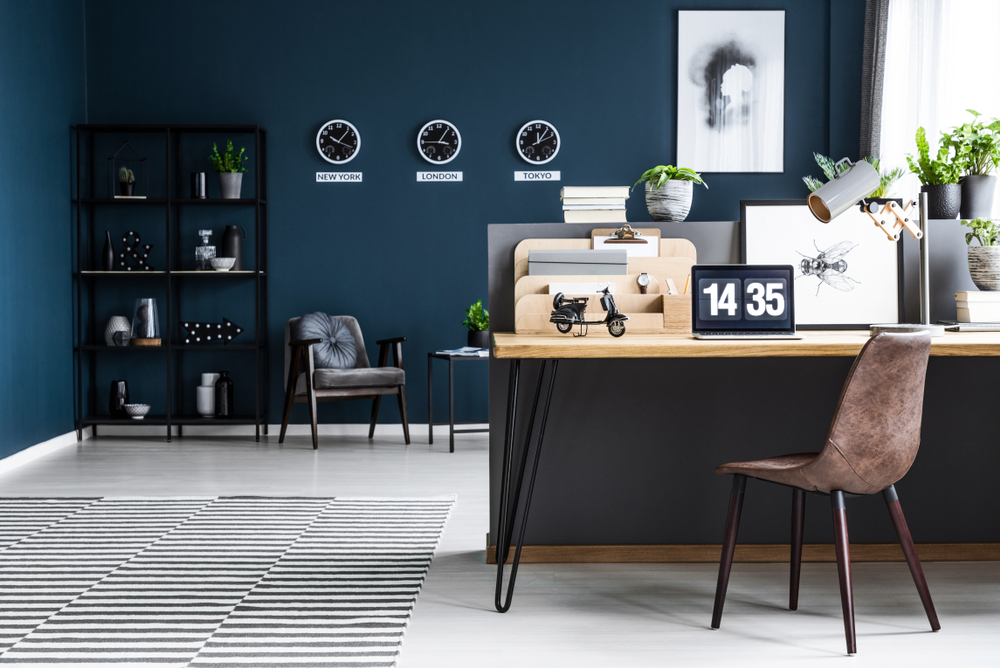 Choosing a Style for Your Home Office Rugs
Just like any other part of your home, you want to choose a rug that accentuates your décor style. Your home office might be the same style as the rest of your home, or have it sown unique style. Thankfully, there are many different rug styles available so you can pick the perfect one for your needs.
A traditional, floral style rug is a classic staple and one that can work with almost any décor style. It is also perfect if you are looking for a highly professional look to your space. They are seen as a formal and cultured rug choice. However, other décors styles might work better with more modern rug styles. For a sleek, contemporary space, a modern rug in bright colours or a distressed style look fantastic. You want a single colour or a minimal pattern. Low pile, flat weave rugs are perfect for contemporary looks.
For traditional spaces, and those wanting to emulate an elegant, executive style office, you want to look at traditional and antique style rugs. These rich colours go well with dark wood furniture and ornate details.
And for those wanting to embrace the rustic, homely feel, there are shabby chic and faux distressed. For farmhouse, rustic styles, patterns are perfect but the more distressed and shabby, the better. lighter, washed out colours work best as they can blend into almost any home design. Longer pile is best, homing in on this homey feeling.
Considering Space for Home Office Rugs
When choosing an office rug, you need to make sure the rug is actually the right size and shape for the space. If you are looking for a room-sized rug, try to ensure there is at least 18 inches between the rug and the wall. This prevents the room looking smaller than it is, while keeping the design clean and neat.
The rug shape is important, too. Runner rugs can help define spaces when you use multiple runners together.
Choosing a rug that complements the shape of your desk is also important, if the desk is the focal point of the room. Pair a round desk with a round rug and a square desk with a square rug, if you're going for an elegant look. Or mix and match shapes for an upbeat, contemporary look.
Protecting Your Rug, Your Floor and Yourself
One of the biggest things to keep in mind when adding a new rug to your room, home office or not, is safety. Rugs can be notoriously slippery, especially on hard flooring. People of all ages can be at risk of falling thanks to slipping rugs. Which is why we always recommend you use a rug pad with any new rug.
Why is it Important to Have a Rug Pad?
Rug pads are primarily there for safety, they are placed between the rug and the flooring to prevent the rug from slipping and sliding. A rug pad also helps add cushion and give thinner rugs more body, making them more comfortable underfoot. Most rug pads are made from jute, felt, rubber or even horsehair. Other rug pads also combine these materials to create better grip and cushion. Grip is, obviously, what will hold the rug in place, while cushion adds more body to the rug.
Choosing and Trimming a Rug Pad
Rug pads should be effective, not expensive. While some people opt for thick felt and rubber rug pads, generally they return for a thinner rug pad the next time round. A thinner rug pad is definitely better for thinner rugs.
The rug pad needs to be at least as large as the rug. It can be slightly larger but not too much bigger than the rug. Once home, position the pad exactly where you want to lay the rug. Place the rug over the pad and very carefully trim the pad, so the rug is about 2 inches larger than the pad on each side. The edges of the rug should touch the floor. Cutting the rug pad too small, however, runs the risk of creating a slippery edge to the rug.
With home offices being utilised more than ever before, your office rug might be getting a little dirty and tired. Contact the team at Woods Rug Laundry, today, to get your rug professionally cleaned. We specialise in a wide variety of antique and modern rugs, so call us now!